Note: This post is adapted from an earlier version published on the PayUMoney Blog
Closing the gender gap has been on the social agenda for quite a few years now. As a result of raising awareness and various initiatives worldwide, we are getting closer to achieving gender equality. Unfortunately, "closer" does not necessarily mean "close".
The sobering truth is that if we keep "getting closer" at the current pace none of us will live to see gender parity. Most likely neither will many of our children. The Gender Gap Report 2020 reveals that at the current pace, gender parity will not be attained for another 99.5 years.
The Gender Gap across the world
There are many causes of gender inequality, the top three being
Uneven access to education
Lack of employment equality
Job segregation
The causes and their effects differ significantly across the world. From bodily autonomy and religious freedom to sharing caregiving and domestic responsibilities, women across the world face enormous challenges on their journey to financial independency and career growth.
The latest statistics show that while the labor force participation rate for women in Europe has risen to 50%, in India it remains at 20%.
PayU's commitment to Diversity and Inclusion
At PayU, we are committed to creating a world without financial borders where everyone can prosper. We act local and excel through our local expertise. Addressing the gender gap locally by starting initiatives tailored to the local needs is a priority set by the highest leadership levels. Closing the gender gap in PayU India is a matter addressed across all levels of the workforce and at all stages – from hiring and recruitment to evaluation and promotion.
PayU India CHRO Ashish Chattoraj says:
"Some of the existing initiatives include giving employees twice the bonus for referring a women candidate as the bonus for referring a male candidate. This program has had a very successful response with over 300 referrals coming to us in record time. We also promote childcare subsidy for mothers and single fathers, supporting employees in their domestic responsibilities."
PayU's Second Innings Program: Bringing Talented Women Back to the Workplace
A big challenge to gender diversity is women dropping out of the corporate workforce to raise children, care for elderly family members and other reasons. When trying to return to work, women often face rejection based on their gap years. The Centre for Monitoring Indian Economy states that 2.4 million women took a career break in 2017, but less than a quarter of the same number is actively looking for jobs again.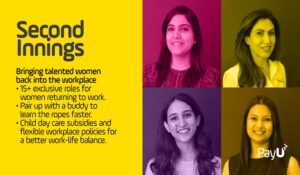 In our effort to change this and remove as many obstacles as possible for women returning to work, last year our India office teamed up with JobsForHer to launch the PayU Second Innings Program, consisting of jobs for which only women returning to the workforce are eligible to apply.
As part of this initiative, PayU carved out 15+ roles in our India organization exclusively for women returning to work, so as to provide a platform to restart their careers with PayU. Women are assigned a workplace 'buddy' for a month from the existing team, to ease their journey as they transit back into professional workplaces, with opportunities across market verticals.
PayU is committed to diversity and inclusion at the highest leadership levels, addressing the gender gap across all levels of the workforce and at all stages — from hiring and recruitment to evaluation and promotion.
Learn more about Diversity and Inclusion in PayU and the people behind our global and regional initiatives.