Payment orchestration with no boundaries
Get the most out of your global payments
Streamline and consolidate all aspects of your payment stack into one, customizable payment platform.
Through PayU's global payment orchestration platform, merchants can boost sales through a single, direct connection to hundreds of local and global online payment methods – enabling sales in any market using one global solution for accepting and optimizing online payments.
In addition to industry-leading anti-fraud and payment security functions, PayU's US-patented Smart Routing Engine and other payment optimization tools help merchants to boost revenue and e-commerce margins by capturing more conversions at checkout and increasing payment approval rates.
Whether you are an established global brand or emerging e-commerce leader, PayU is designed to help any merchant as your business scales up in size and complexity.
Read more below about the key features of our global platform – and get in touch with our team to see how payment orchestration can help your business to boost global e-commerce opportunities.
Your business growth starts here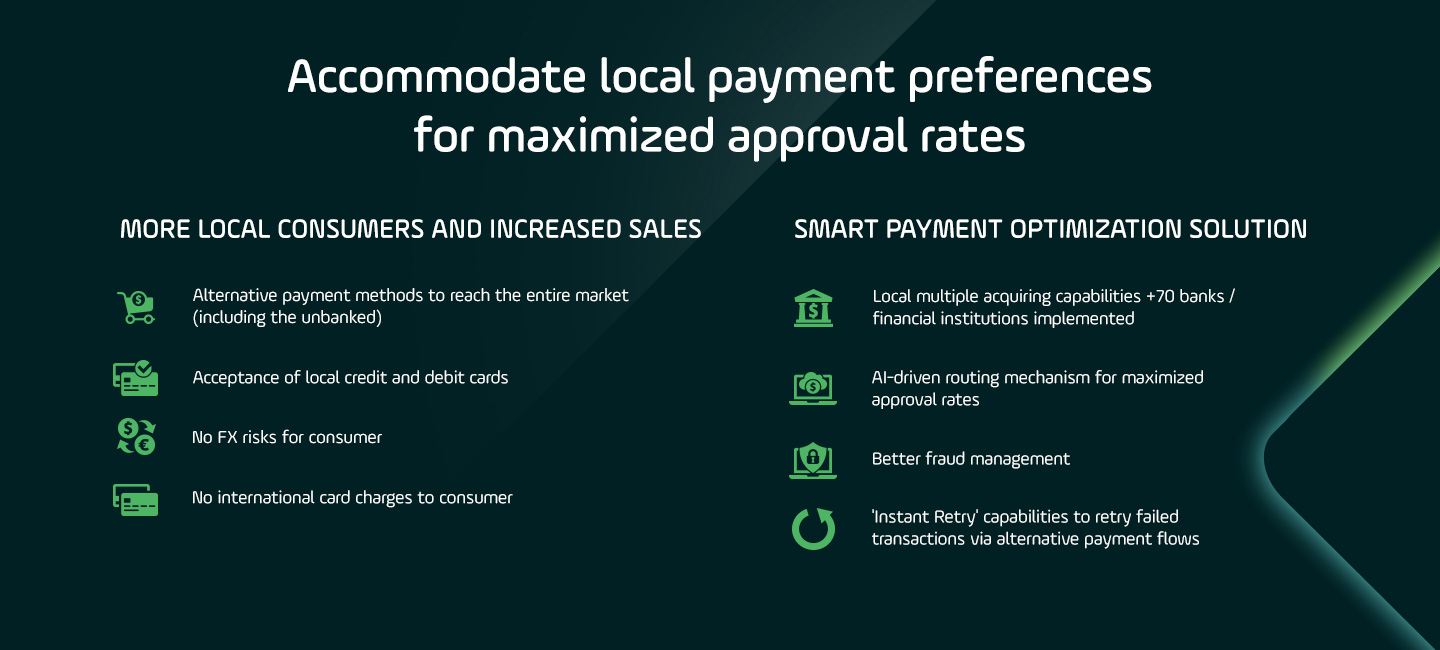 Integrate local and global payments together

With settlement in both domestic and international currencies, you can easily enter new markets with minimal friction. Merchants have complete control over local and international payments with more than 20 transaction and payout currencies readily available.

Single connection to popular local and global payment methods

PayU enables a single and direct connection to popular global and local payment methods around the world. With hundreds of available payment methods, merchants can localize effectively and meet customers where they are.

Payment security and compliance

From our anti-fraud module to supporting merchants with the most essential aspects of industry and regulatory compliance, PayU's global platform is full of features enabling you to accept secure and frictionless payments anywhere in the world.

Lightning fast connectivity and user onboarding

Set up global payments in any market via a single API, and make changes easily to your payment stack as business needs evolve. Add payment methods, change routing configurations, create custom reports – it can all be done in a few clicks in our user-friendly dashboard and requires no engineering experience.
Why PayU?

Watch the video to see how PayU can help your business benefit from global reach as well as local expertise.
Get started

Get more from your global payments. Fill in the form to get in touch with a member of our team and learn more.