Optimize payments with our Patented Routing Engine
Our US-patented solution allows you to create custom routing rules that direct your payments to the most optimal processing location, while blocking unwanted transactions.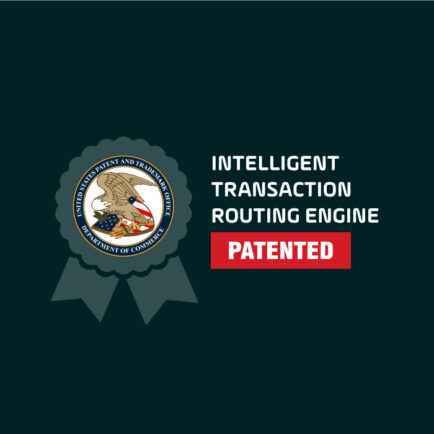 Everyday payment optimization made easy
When it comes to online payments, global businesses face a number of variables. Payment providers, market conditions, and payment approval rates vary widely across the globe.
These conditions can have a big impact on whether a payment is successful – which can have a big impact on e-commerce revenue. Even a small difference in payment approval rates might add up to tens of even hundreds of thousands of dollars when it comes to overall sales.
In order to get the most out of online payments, the role of the payment gateway is critical. Payment gateways are the central nervous system of the payments world, directing transactions to the appropriate acquirers and Payment Service Providers (PSPs) for processing. Everything from scalability and client experience to payment approval rates are all affected by this essential behind-the-scenes procedure.
Smart routing geared toward the needs of your business
An intelligent routing capability is essential to the ability of the payment gateway to optimize payment traffic. That's why PayU's global payment platform provides over 100 smart routing configurations to support your business goals.
Merchants have the ability to choose their preferred routing configuration, optimizing for lower fees, higher approval rates, or other custom criteria. Routing rules can be based on a variety of factors, including issuer, geographical area, transaction size, and more.
Because routing rules can be changed at any time, you can observe the impact on your revenue practically immediately.
Our solution stands out in the field and has recently received a US patent. You can read more about the patent here.
Advanced tools for optimizing payment traffic
From higher approval rates to lower transaction fees, see how PayU's patented routing engine can help your bottom line.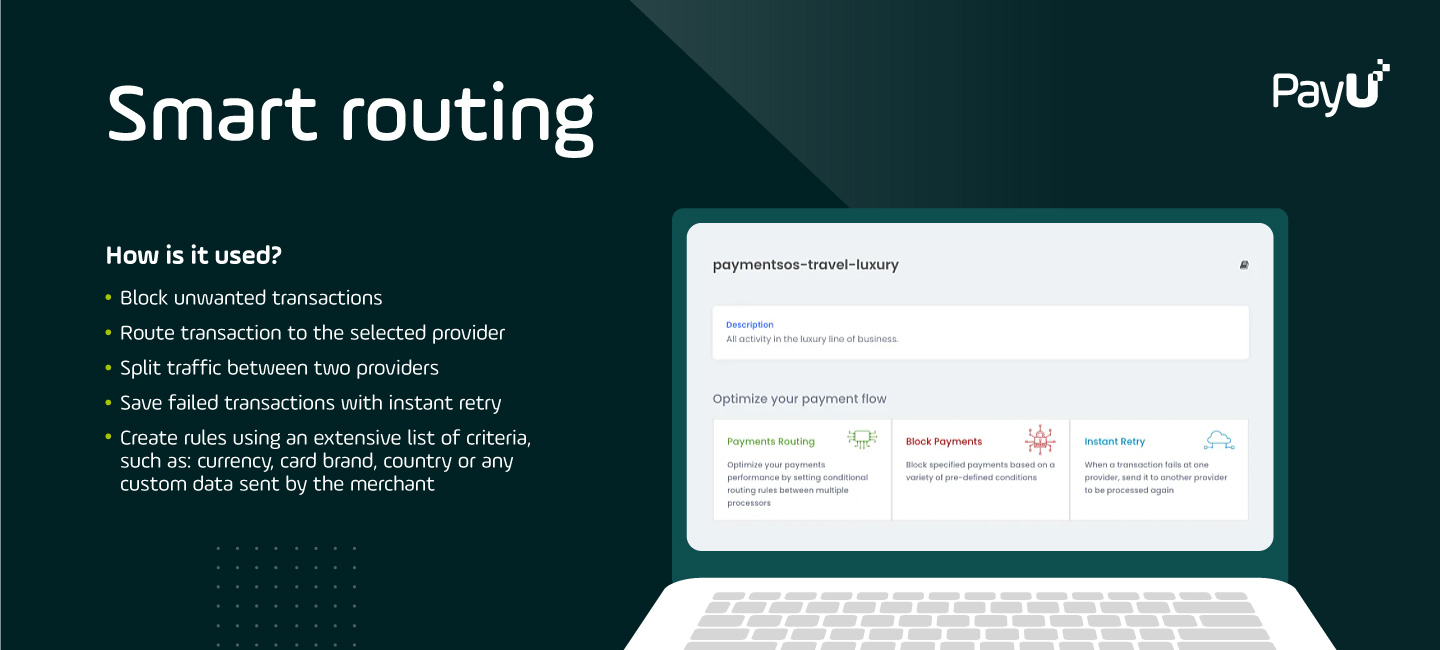 Optimize business results via smart routing

PayU's Patented Routing Engine enables payment managers to create rules for routing payments to the most optimal provider, ensuring payments are handled in a manner that will guarantee the best possible business outcome.

Reduce fees and maximize approvals

Route each payment to the provider with the lowest fees and the highest acceptance rates – using the PayU advanced analytics dashboard, merchants can configure rules allowing you to maintain full control over a payment's destination.

Block dangerous or unwanted transactions

Just as merchants can configure rules to optimize the processing of each payment, you can also create rules for blocking transactions based on an array of conditions, ranging from broad criteria (such as a country), down to more precise specifications (such as a specific card type).

Extensive criteria to choose from

Create rules using an extensive list of criteria, such as currency, card brand, country or any custom data sent by the merchant. Smart Routing allows merchants to send traffic to a selected provider, split traffic between providers, or even recover failed transactions using the Instant Retry Feature.
Performance-driven routing rules
PayU's decision engine is purpose-built with the goal of facilitating dynamic routing, allowing businesses to create a more efficient payments infrastructure that can scale and adapt to market changes.
Whether you wish to maximize payment margins by routing transactions to processors with lower fees, block unwanted transactions to reduce the risk of fraud, or recover declined transactions using Instant Retry, Smart Routing from PayU puts you in full control of your entire digital payments infrastructure.
Explore more payment features
From real-time analysis to payment security features, see what PayU's global capabilities can do for you.
Smart routing FAQs (3)
What is payment routing?
Payment routing is the flow or route through which a payment goes in order to be approved. The simplest payment route is: a cardholder makes a payment through a gateway on a merchant website which is sent to be validated by the payment acquirer, card networks, and the cardholder's issuing bank. As merchants begin to process payments (especially from customers in international markets), this simple-enough process can easily become more complicated, jeopardizing payment approvals and therefore the entire e-commerce transaction.
What is smart routing?
Smart Routing, enabled via the PayU Decision Engine, is a PayU capability that ensures that after the payment is initiated by the cardholder, the transaction is routed through the specific network of payment providers that is the most likely to approve the transaction. PayU's Smart Routing Engine automatically picks the most suitable acquirer or processor to accept the payment based on both cardholder's and the merchant's location, currency, and card information, helping more payments to get approved while increasing customer satisfaction.
What is intelligent routing of payments?
Intelligent routing of payments is a capability that ensures that transactions are routed to the right acquirers and processors which can approve a transaction that was otherwise declined by the initial payment acquirer or processor.
Get started
See how Smart Routing from PayU can help your business maximize revenue and transaction approvals. Contact a member of our team to learn more.