Buy Now, Pay Later (BNPL) PayU Credit
BNPL: A win-win for consumers and online merchants
Buy Now, Pay Later (BNPL) is becoming an increasingly powerful part of the e-commerce landscape – particularly in emerging markets. From standard checkout options that give customers the ability to pay off their entire order within a fixed period, to installment payments spread over a longer duration, BNPL products help more consumers to access credit, while helping merchants to increase online sales and average order values.
Increasing financial inclusion
Buy Now Pay Later options offer a more consumer-friendly way to access credit when paying for online products – and can serve as a source of alternative credit to customers not covered by traditional financial products. By extending more payment flexibility to online shoppers, BNPL expands the affordability and accessibility of e-commerce, helping more people to participate in the digital economy.
Benefits for merchants
Merchants offering BNPL in select PayU markets benefit from increased sales due to improved conversions along with transaction values up to 10 times higher than for other payment methods. With a variety of secure repayment options, your customers feel more comfortable making bigger purchases online. Meanwhile, through the credit products offered by PayU and our partners, merchants are paid out at the time of purchase, eliminating any risk.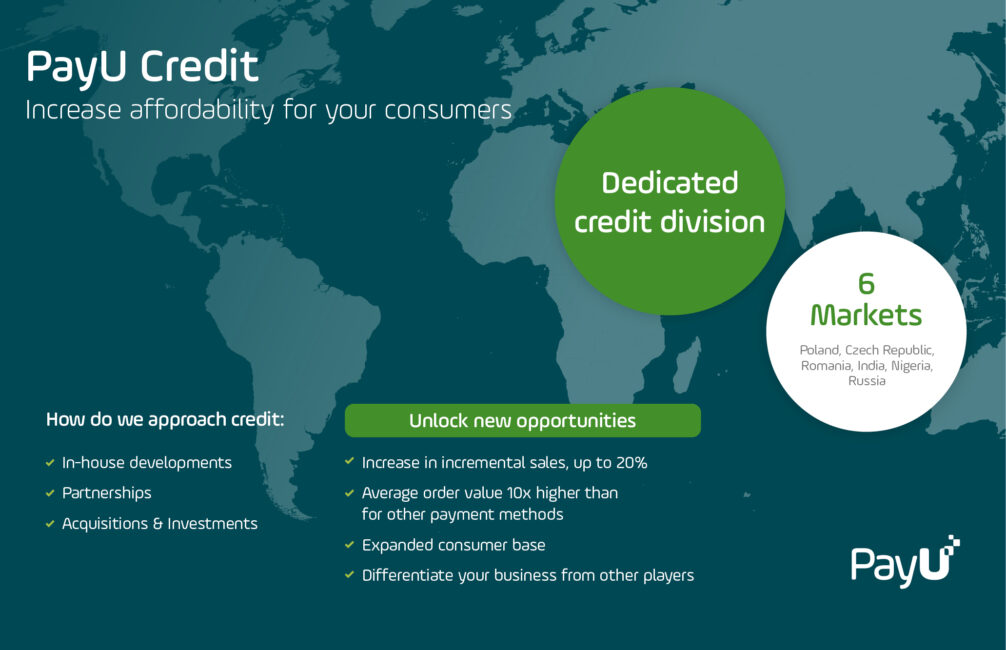 How it works
Explore an example of how PayU's credit solutions can help you reach more customers in emerging markets.