Buy Now, Pay Later (BNPL) PayU Credit
BNPL: A Win-Win for Consumers and Online Merchants
Buy Now, Pay Later (BNPL), installment payments, and other alternative credit products are becoming an increasingly powerful part of the e-commerce landscape – particularly in emerging markets. From standard checkout options that give customers the ability to pay off their entire order within a fixed grace period with no costs, to installments spread over a longer duration, BNPL and other credit solutions are helping more people around the world to participate in the digital economy. E-commerce merchants, meanwhile, benefit from a larger customer base, increased online sales, and higher average order values compared with traditional payment methods.
Increasing financial inclusion
Buy Now Pay Later options offer a more consumer-friendly way to access credit when paying for online products – and can serve as a source of alternative credit to customers not covered by traditional financial products. By extending more payment flexibility to online shoppers, BNPL expands the affordability and accessibility of e-commerce, helping more people to participate in the digital economy.
Benefits for merchants
Merchants offering BNPL and other credit products in select PayU markets benefit from increased sales due to improved conversions as well as higher transaction values for certain types of payments. For installment payments, transaction values are up to 10 times higher than for other payment methods. With a variety of secure repayment options for different PayU credit offerings, customers feel more comfortable making bigger purchases online. Meanwhile, through the credit products offered by PayU and our partners, merchants are paid out at the time of purchase, eliminating any risk.
PayU's credit offer
PayU offers BNPL and other credit solutions in selected markets. Each solution is managed locally and tailored to the needs of the local market. Keep scrolling for more information on PayU's credit offering around the world, or click on the links to navigate directly to a specific region.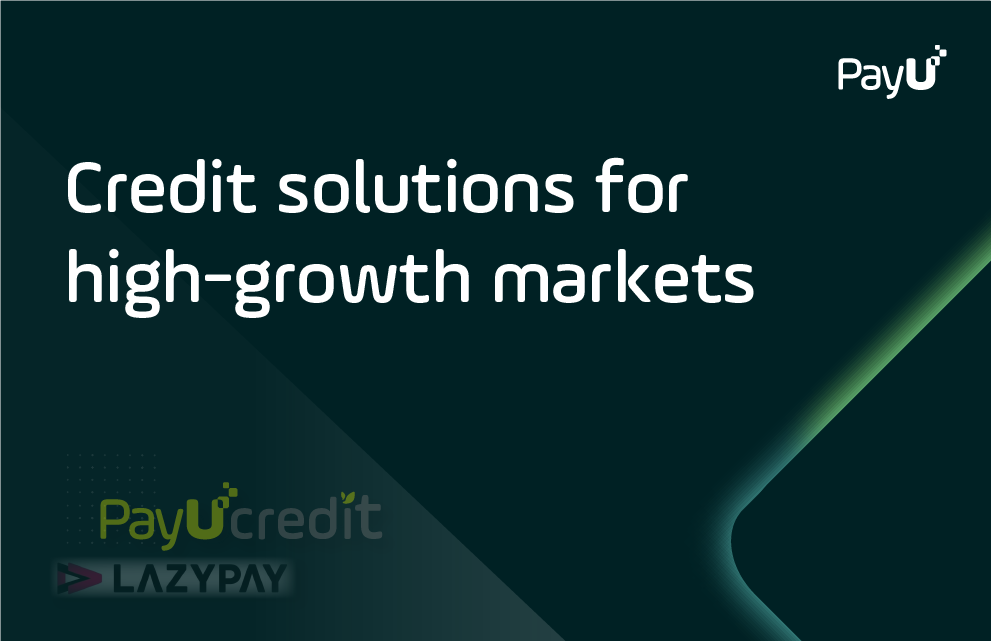 From BNPL to Installments: Credit Solutions in Eastern Europe
Representing a combined consumer population of nearly 60 million, Poland, Romania, and the Czech Republic are three of Europe's most compelling growth markets for e-commerce. With offices in all three countries, PayU is deeply rooted in the Central and Eastern European region. This local expertise extends to our credit platform, which offers different credit options for each market.
Poland

PayU Credit is the biggest online credit broker and distribution platform in Polish e-commerce, with nearly $1 billion in credit volumes processed and over 2,500 merchants using PayU Credit solutions. Through a single API, PayU's Credit platform facilitates multiple consumer credit options by partnering with a network of leading consumer finance providers.
The credit portfolio can be customized according to merchant preference and includes various installment payment options as well as BNPL with a standard grace period 30 days or even extended up to 45 days (for registered users and dependent on the loan provider).
Merchants are paid out at the time of purchase, allowing businesses to reap the benefits of extending credit options to online consumers without shouldering the risk.
Romania

In Romania, PayU partners with local banks to offer BNPL as well as installment payment options to consumers. This means that PayU merchants in Romania can offer their customers BNPL with up to 30 days of grace period through PayU's platform, as well as installment payments with up to 60 installments.
According to PayU's 2021 report on the state of e-commerce in emerging markets, the average transaction value in Romania for key verticals like Beauty & Cosmetics was among the highest on our EMEA platform.
With these promising figures, offering BNPL and installment payments is a great way for merchants to boost GMV and reach more of the growing Romanian e-commerce marketplace.
Czech Republic

PayU offers BNPL in the Czech Republic through an integration with local BNPL provider Twisto. PayU's platform allows merchants to offer the Pay Later with Twisto option as a payment method at checkout. Consumers receive an instant credit decision and, if approved, the order can be paid with a standard grace period 30 days (or even extended up to 45 days for Twisto account users).
PayU pays out the merchant the next day and assumes responsibility for collecting payment from the customer.
Learn more

Get in touch with our team to see how your business can enable BNPL and other consumer credit solutions for customers in Central and Eastern Europe.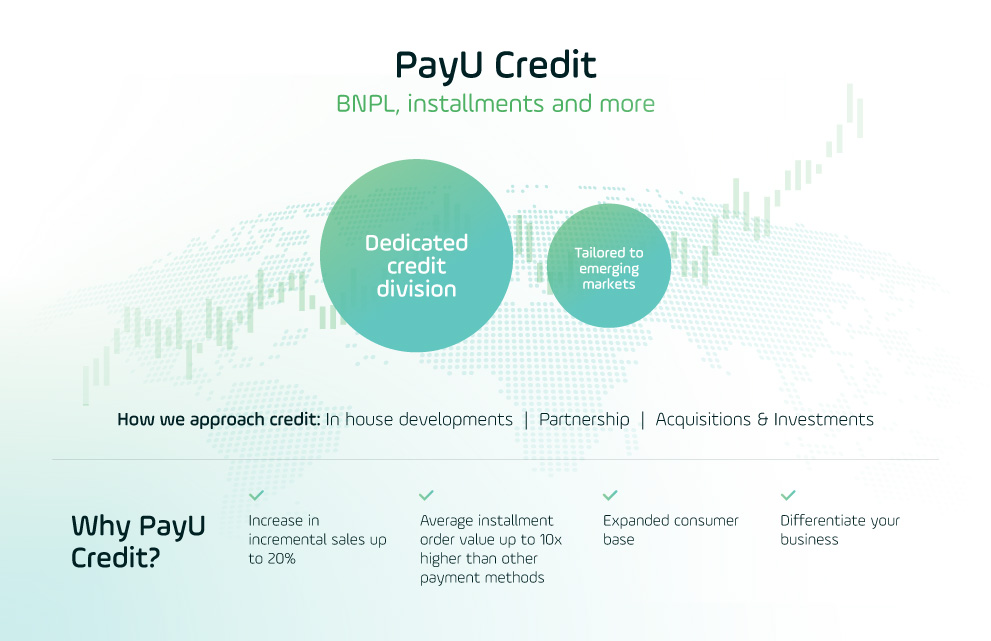 BNPL and Consumer Credit Solutions in India
India is PayU's other major credit market, with credit operations consolidated under the LazyPay brand. Where PayU offers credit in Eastern Europe through partnerships with BNPL providers, in India LazyPay operates as a direct consumer lender, enabling a range of credit products from BNPL to personal consumer loans.
Seamless credit
LazyPay allows users to check out using BNPL directly from the website or app of any participating merchant. During checkout, customers select LazyPay and can choose to either settle their payment interest-free within 14 days or pay in monthly installments at low or no interest over a period of up to 12 months. LazyPay is currently accepted on over 250 websites and e-commerce marketplaces in India and can be enabled as a local payment option at checkout for merchants using PayU's platform.
LazyCard
PayU recently expanded the LazyPay offering in India by launching LazyCard, a physical prepaid card that links to the user's LazyPay account and provides an alternative to traditional credit cards. LazyCard extends the reach of BNPL in India by offering another credit card option for customers who may not have gotten approved for a mainstream card. At the same time, it allows users the opportunity to earn travel rewards, points, cashback, and other benefits previously only available to consumers with traditional cards.
UPI integration
LazyPay is integrated with India's Unified Payments Interface (UPI), a popular payment method established by the Indian government which facilitates payments between over 200 participating banks and alternative payment methods over a single platform. UPI is embedded in multiple popular consumer-facing websites and online services in India, and LazyPay users have the additional option of spreading UPI payments out in installments while gaining access to other benefits.
Additional markets
Africa
PayU offers select credit options in Nigeria. Reach out to learn more.
Our global platform also enables merchants to accept multiple BNPL payment methods that are popular in local markets across Africa – such as RCS and Payflex in South Africa.
Latin America
Although PayU does not yet have a dedicated credit offering in Latin America, our global platform connects merchants to local banks and other payment methods in the region that offer their own BNPL payment options.
Global Payment Solutions
PayU's global platform enables merchants to accept BNPL and other popular local payment methods in any market around the world.
Visit our Global Payment Solutions homepage to learn more about the payment options available through PayU – from full payment methods coverage for any customer in the world, to industry-leading payment optimization and payment security features that help merchants to securely manage all of their global payments.