Fraud prevention for e-commerce
PayU's integrated anti-fraud solutions keep customers safe while giving online merchants the peace of mind to focus on growing their business.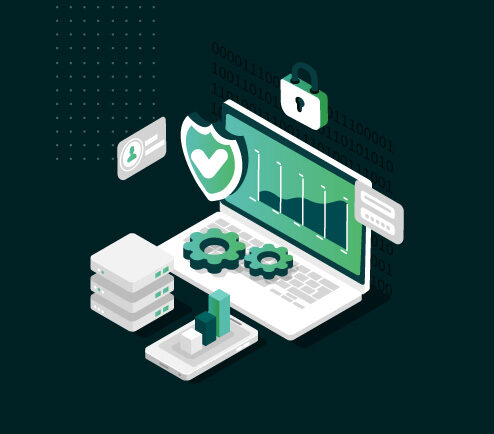 Secure your online store and protect customers with best-in-class anti-fraud tools
The ongoing growth of e-commerce and digital life brings extensive opportunities for businesses and consumers. Unfortunately, the same is also true for payment fraudsters.
In 2020, the average number of successful fraud attacks increased by nearly 50% for mid-to-large size retailers in the United States. Small businesses are also feeling the pain – although fraud was less common for this group, successful fraud attempts on smaller companies also increased by more than a quarter in 2020.
The costs are real. According to estimates, financial losses due to online payment fraud will exceed $206 billion between now and 2025. These losses are in addition to less quantifiable impacts such as reputational damage and the time that merchants must spend dealing with fraud when it does occur.
As the importance of digital sales increases, having a reliable anti-fraud solution is a critical part of providing customers with a safe and high-quality online shopping experience.
Read on below to see how PayU's anti-fraud solutions help merchants to keep themselves and their customers safe – delivering seamless and worry-free online payment processing while maintaining an excellent user experience and high payment approval rates.
Our anti-fraud solution
See how our anti-fraud module leverages machine learning to keep merchants and customers safe.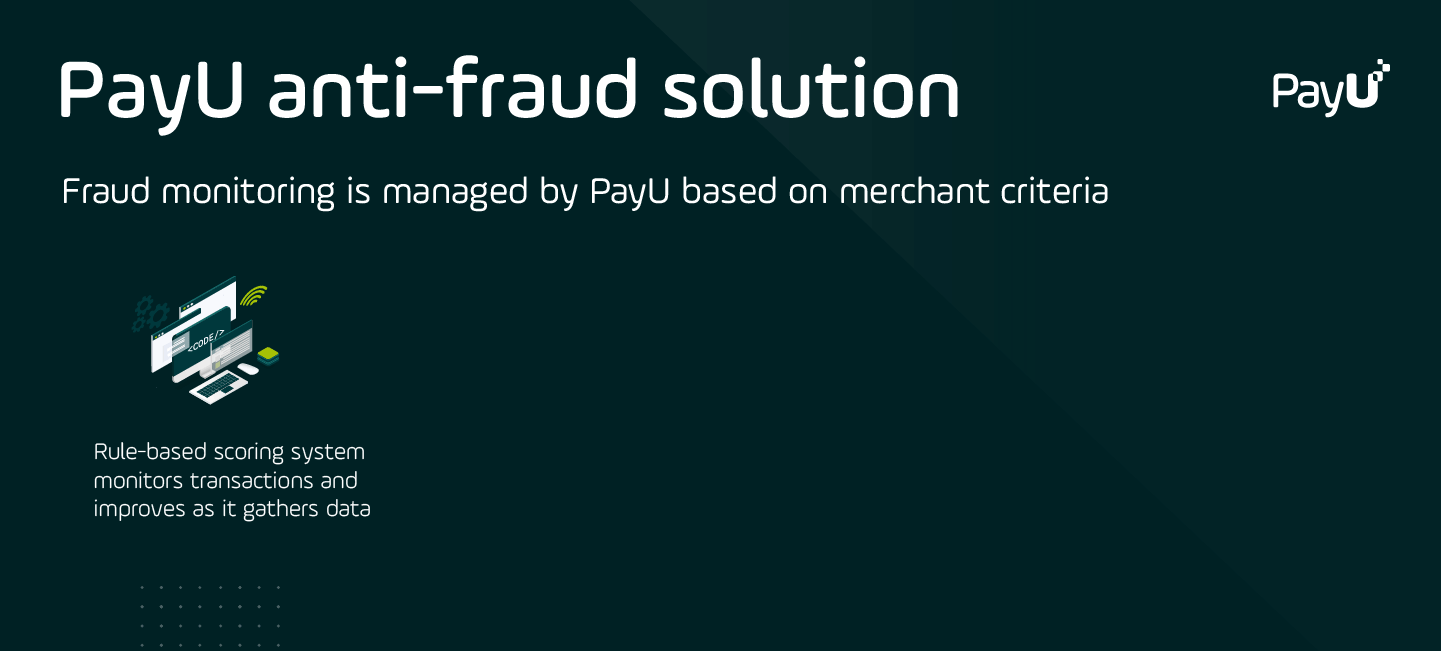 Handled by us

Fraud monitoring is done by PayU on behalf of our merchants – based on merchant-driven needs and criteria.

Powered by AI

Our fraud monitoring and detection module improves as it collects more payment data, making it more effective at finding legitimate fraud while limiting false declines.

Rule engine and scoring system

Each payment has a risk score set using parameters such as payment amount, email address, IP address, country, and more.

Flag then verify

Our system blocks suspicious payments and then checks to determine whether the transaction is actually fraudulent.
PayU anti-fraud features and benefits
PayU's anti-fraud solution is bolstered by our expertise in local regulations and market conditions, as well as our global capabilities. We leverage these strengths to optimize payment routing to prevent fraud, while also giving merchants the capability to block unwanted transactions and identify suspicious activity before it becomes dangerous.
These tools help to separate legitimate transactions from the illegitimate, protecting against data breaches and keeping both merchants and customers secure.

How does it work?

Our fraud detection service detects fraudulent transactions and notifies merchants when they occur. Fraud monitoring and detection is based on both a rule engine as well as a scoring system driven by machine learning.
When it comes to 3D Secure, merchants can choose to implement an internal flow of 3DS transactions, use an external 3DS Merchant Plug-In (MPI) or take advantage of the external MPI provided by PayU.
Additional anti-fraud capabilities can be enabled based on the local conditions of the market where the merchant is operating.

Why is it important?

Merchants rely on PayU for advanced fraud detection and close cooperation with law authorities should breaches occur.
At the same time, PayU's advanced 3DS capabilities help merchants comply with Secure Customer Authentication (SCA) requirements in places (like the European Union) where they are enforced, while also maintaining high approval rates.
Our fraud detection capabilities are designed with the needs of merchants and customers in mind, leveraging data to detect suspicious activity, without compromising approval rates and successful transactions.
Why should merchants use PayU's anti-fraud solution?
Get started
Access comprehensive anti-fraud support and other payment security features through Pay's global payment orchestration platform.