Payment solutions by industry
Benefit from PayU's global reach
PayU is among the leading payment platforms in some of the world's most dynamic emerging markets. This "local-to-global" approach helps to enable the scope of our global payment offering. Through the capability to process payments locally in any market on PayU's platforms and those of our partners, global merchants benefit from the same advantages as their local counterparts when it comes to ensuring successful online payments.
At the same time, any local business connecting via PayU's global platform can access the same global payment features as the world's largest e-commerce players.
Merchants interested in PayU's global payment offering should visit our Global Payment Solutions home to learn more about the global reach and capabilities of our payment orchestration platform.
For merchants with more specific market-to-market requirements we leverage our local experience to provide additional industry-based payment solutions tailored toward the needs of individual geographies and e-commerce verticals.
Keep reading to learn more about the industry-focused payment products available through PayU, as well as the local payment methods we have available in our top emerging markets.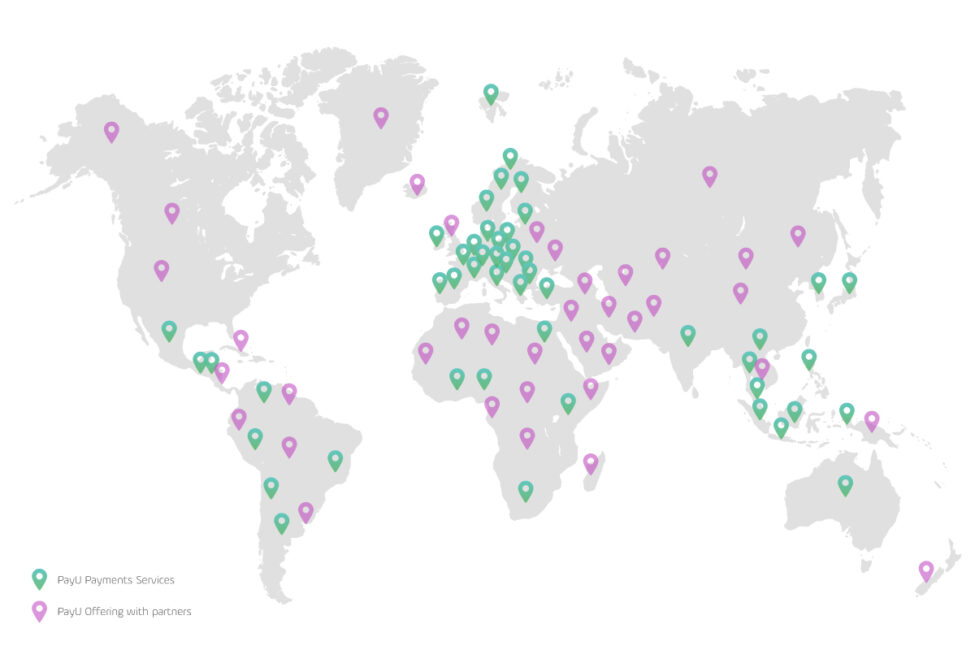 PayU industry solutions
Browse the cards below to learn about the solutions PayU offers for specific industries (available in select markets).
How local payment processing drives success
Learn about the advantages of local payment processing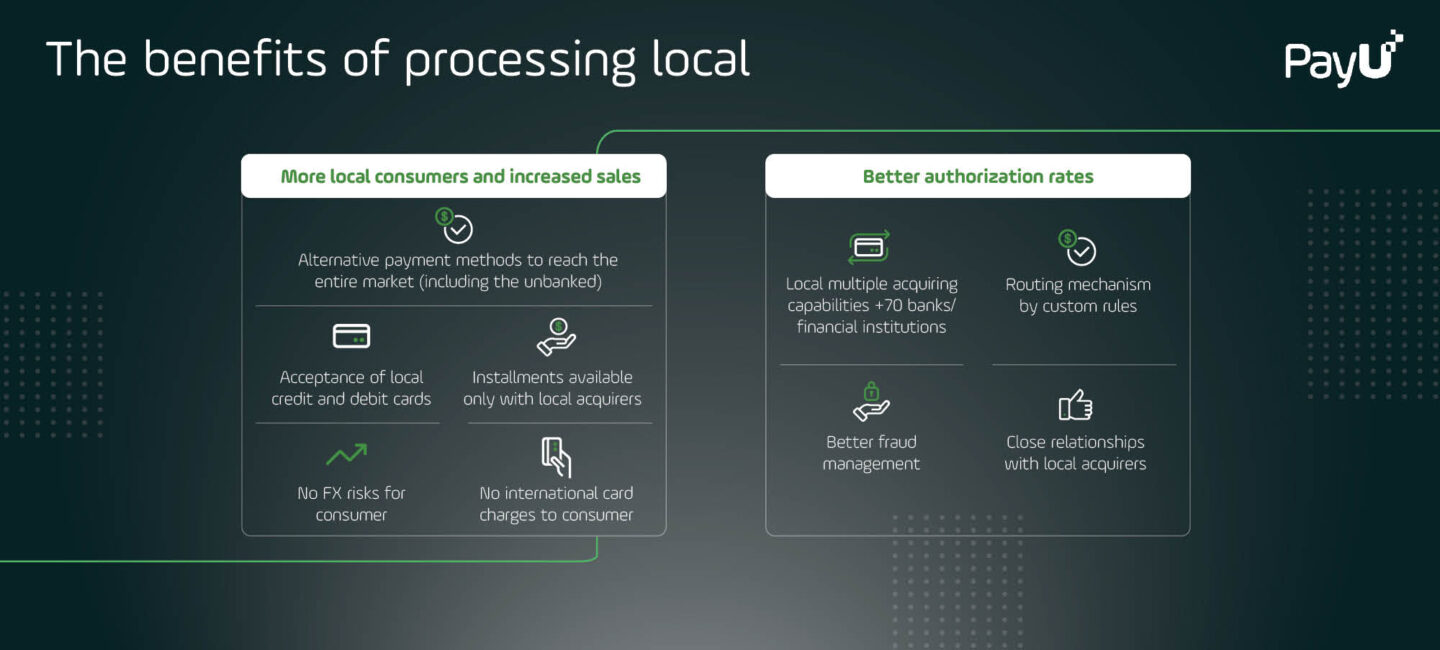 Accept more payment methods

Local forms of payment must be processed by local payment acquirers in the target market. As an all-in-one global payments platform, PayU takes care of this on the merchant's behalf, opening up access to hundreds of local payment methods in any market around the world.

Increase payment acceptance rates

Businesses that offer local payment methods not only see higher conversions at the point of sale, but also fewer declined transactions. This is because local payments have a higher rate of acceptance and more options for alternative routing when a transaction is at risk of being declined.

Meet customers where they are

According to a survey by Shopify, 92% of global e-commerce customers prefer to shop in their own currency. 33%, meanwhile, are likely to abandon a purchase if pricing is only in USD. Local payments allow customers to shop in their own currency and help localize the overall shopping experience.

Reach the whole market

In many markets, e-commerce is ahead of traditional financial services, with installment payments and other digital options designed specifically for customers who may not have access to a credit card or banking. The only way to reach this segment of the consumer population is to process payments locally.
One global solution for local payment processing in any industry
Merchants integrating via PayU benefit from access to the industry-leading features of our global payment orchestration platform. With one global API integration, merchants can process local payments in any market over PayU's local payment platforms as well as those of our partners.
While everything is happening behind the scenes, merchants see only the PayU interface, which provides a complete overview of all local payments across different global markets along with advanced analytics and tools for payment optimization.
Providing the ability to offer more local payment methods while increasing approval rates and lowering fees, local payment processing is a competitive advantage for any online merchant.
Global merchants benefit from the ability to do business locally. At the same time, local businesses have a payment solution with all the benefits and features of a global payment platform, even if they are only doing business in one country.
For companies at a growth stage, PayU can scale easily and accommodate plans to sell in any new market.
Get more from your online payments
Whether you are a startup or established merchant, a local business or a fast-growing scale-up with plans to go global, unlock sales and e-commerce revenue by leveraging advanced tools for online payment processing and optimization.
Click the link in the banner to get in touch with a member of our team and see how PayU can accelerate your business growth.