Everything you need to know about 7-Eleven
What is 7-Eleven, how does it work, and how can merchants integrate this payment method into their e-commerce store?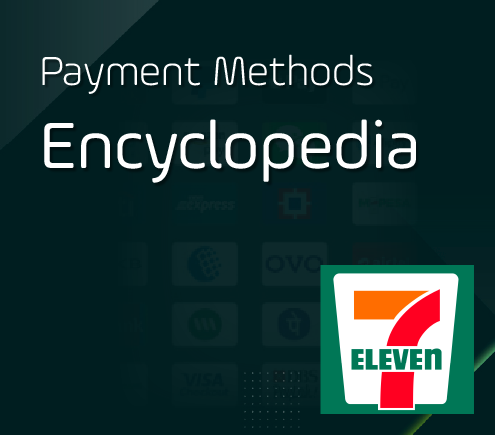 7-Eleven: Cash payment method for customers in Mexico
With a population counting 127.8 million, Mexico is Latin America's second-most populous country. Approximately half of the consumers in Mexico have internet access, and 74% of internet users buy products online. Due to the size of the country and the relatively young average age of its population, Mexico has become a promising market for e-commerce business. Almost a third of all Latin American e-commerce sales come from Mexican consumers. 
If you're considering taking your business to Mexico, localizing payments is the best approach. It's essential that merchants offer trusted and recognizable payment methods to attract new customers and provide smooth sales transactions. One of the most popular cash payment methods is based on convenience-store payments made at retailers such as 7-Eleven, OXXO, or Farmacias del Ahorro. These stores often allow customers to pay for items online by printing vouchers and presenting them in-store.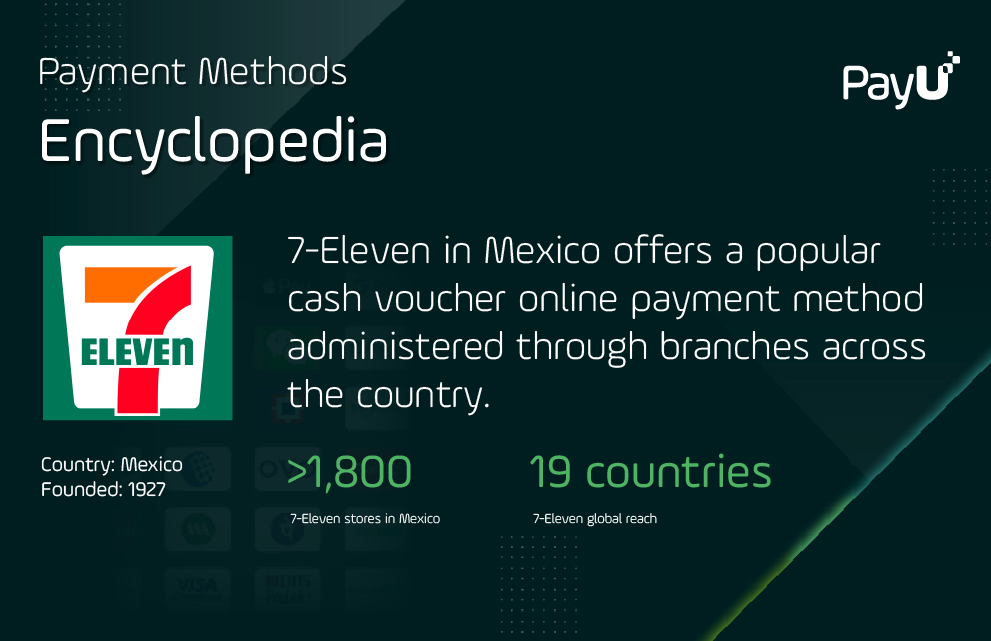 What is 7-Eleven?
7-Eleven is a cash payment method realized in 7-Eleven branches. 7 Eleven operates as a one-stop-shop that offers electronic billing, cash withdrawals, deposits to banks, bill payments for utilities like electricity, and top-ups for mobile phones. 7 Eleven operates 1,835 branches across Mexico, open 24 hours a day for customers' convenience. 
How does 7-Eleven work?
During checkout, customers can pick the 7-Eleven payment solution. They need to accept the terms and conditions and click on the button to process the order. On the next screen, they see a receipt with all of the information and can pay. Next, customers select between Oxxo or 7-Eleven, filling out all of the information correctly. By proceeding, they receive a coupon with a barcode that needs to be printed in a laser printer. Customers can then show this coupon at the store of their choice. After completing the payment in cash, they will get two receipts: one stating the amount paid and one for payment verification. Once the payment is matched to the checkout, the merchant quickly gets paid and can ship the product. 
Why do merchants and consumers use 7-Eleven?
Given that many Mexican customers don't have access to credit or debit cards or banking products, 7-Eleven allows merchants to tap into this substantial group of online buyers. For a variety of reasons, cash is still an important payment method in Mexico. Many vendors offer voucher-based services that can be selected during online checkout, allowing customers to get goods delivered directly to their homes and settle the bill with cash at convenience stores that are open at all hours. 
However, many international merchants hesitate to add cash payment options because they see little value in offering this service. In markets such as Mexico, where a large percentage of the population is unbanked, credit card penetration is low, and shoppers tend to prefer cash-based payment methods such as convenience store payments. Cash payment methods, including bank transfers and convenience-store payments, are used for almost half of e-commerce transactions in Mexico, so merchants looking to deliver a great checkout experience should provide this type of payment method.
How can I start accepting 7-Eleven?
To implement the 7-Eleven payment method quickly, merchants can implement a payment gateway that includes this option. Teaming up with a payment service provider that has international coverage is the best move to process payments efficiently, enhancing the customer experience and encouraging repeat business from local consumers.
7-Eleven FAQs (6)
In which countries is 7-Eleven used?
7-Eleven is a cash payment method used in Mexico. 
What are the key benefits of 7-Eleven for online merchants?
7-Eleven allows merchants to tap into a large group of unbanked online buyers while providing customers with a convenient payment option. Additionally, 7-Eleven is open 24 hours a day and offers services such as deposits to banks, bill payments for utilities like electricity, and top-ups for mobile phones. 
Why is 7-Eleven such a popular payment method in Mexico?
7-Eleven is a popular payment method in Mexico because it provides customers with a convenient and secure way to pay for goods online. Additionally, it is an accessible option that requires no credit or debit cards and can be used at any time of the day. This makes it an ideal choice for Mexican customers who prefer cash payments over digital methods. 
What do customers need to use 7-Eleven?
Customers need a voucher code that they can obtain online when they select the payment option. They must print this voucher and take it to a 7-Eleven store to complete the transaction. After paying in cash, customers will receive two receipts: one from the 7-Eleven store and another from their bank, confirming that the payment has been received. 
Can I use 7-Eleven for international payments?
No, 7-Eleven can only be used for domestic payments in Mexico. You will need to look at other options, such as credit cards or international bank transfers for international payments. 
What are the main differences between OXXO, Farmacias del Ahorro, and 7-Eleven?
OXXO and Farmacias del Ahorro are two major convenience store chains in Mexico that offer cash payment services. 7-Eleven is another popular chain, but their main difference lies in the fees they charge. OXXO has a fixed transaction fee of 0.5%, Farmacias del Ahorro has a fee of 1%, and 7-Eleven has a fee of 1.5%.