Everything you need to know about Aura
What is Aura, how does it work, and how can merchants integrate this payment method into their e-commerce store?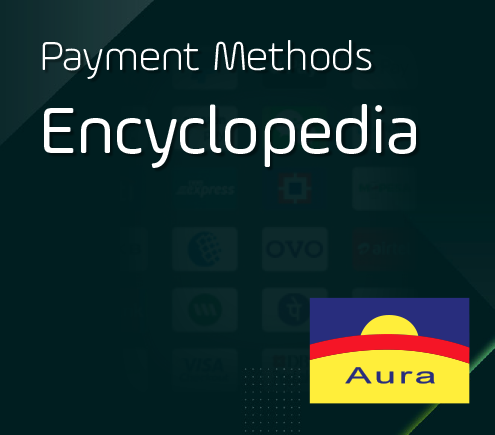 Aura: Credit card payments for customers in Brazil
In the past few years, the Brazilian e-commerce market has grown rapidly due to health restrictions resulting from the global pandemic and changing consumer preferences. In 2020 alone, online sales grew by over 30% due to lockdown regulations and new habits of Brazilian customers who expect to have convenience and flexibility when making online payments. If you're planning to expand your business operations to this exciting market, you need to explore local payment methods. Otherwise, you risk that customers in Brazil don't get the customer experience they expect, abandoning their carts at the checkout due to the lack of their preferred payment methods. One of the most popular payment solutions is the credit card Aura which allows customers to pay in installments. Keep on reading to learn why you need to include it in your online store to achieve success in the Brazilian market.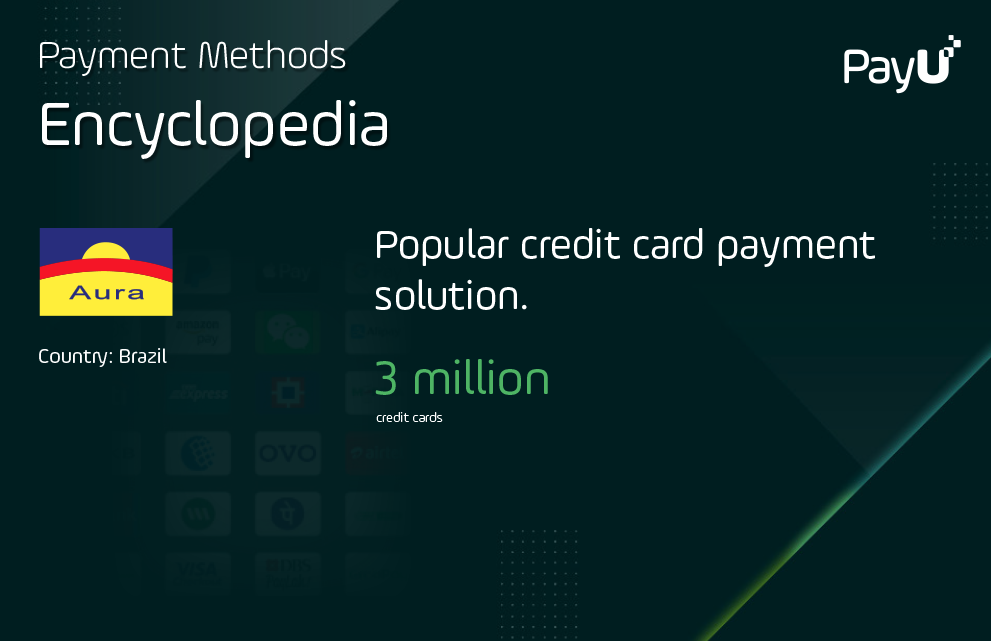 What is Aura?
Aura is a credit card payment solution developed for the Brazilian market and one of the most popular online payment methods, along with HiperCard and Elo. Aura allows consumers to pay in installments by choosing among 3, 6, 9, or 12 monthly installments. The merchant receives payment instantly, but the customer can choose to pay via Aura in 3, 6, 9, or 12 installments. The card also enables recurring online payments.
Cetelem (BNP Paribas) is one of the larger Aura credit card issuers that has partnered with MasterCard for Aura-MasterCard co-branded cards. Currently, there are over 3 million co-branded Aura cards in Brazil. Redecard and Cielo are the main Brazilian acquirers who process and settle transactions on this network, which enables merchants to accept Aura payments in their e-commerce shops via several payment service providers.
How does Aura work?
When a customer is ready to complete their purchase at the checkout, they can choose from different payment options. By choosing a credit card as their payment method, they are either directed to a special page or move along your checkout process to a place where they can add their card details. Most of the time, it's the card brand, cardholder's name, card number, expiry date, and security code. After putting in all those details, customers can make their initial payment to Aura. This payment is followed by others depending on the payment scheme the customer chooses. Merchants receive funds instantly. 
Why do merchants and consumers use Aura?
Aura offers many benefits to its customers, including the ability to make payments online quickly, securely, and in installments. This allows customers to purchase high-end products with more confidence thanks to the flexibility in payment schemes Aura offers. 
Merchants need to accept credit card payments to compete with other businesses, and Aura provides a unique opportunity to do so – and take advantage of the growing customer segment using Buy Now, Pay Later (BNPL) solutions. This payment option allows merchants to offer their customers convenience, ease of use, and fast transactions. Merchants who accept this payment option tend to see more business because people who hold Aura are more inclined to make larger or higher-priced purchases.
How can I start accepting Aura?
The easiest way to accept Aura at your online store is by implementing a payment gateway that includes this option. Team up with a modern payment service provider that has global coverage to increase your presence in local markets, capture new customer segments, and grow your business locally.
PayTM FAQs (5)
How secure is Aura's credit card payment platform for merchants in Brazil?
Aura has security measures in place to protect the financial information of its customers and merchants.
Is there a customer support team available to assist with any issues or questions?
Aura provides excellent customer support to merchants and offers helpful tools such as user guides and tutorials. The Aura team is also available via email, live chat, and phone should any issues arise. Furthermore, Aura's technical team can help integrate the payment system into websites or applications if required.
Are there any additional features or benefits available to merchants?
Aura offers several innovative features, such as "pay later" options and loyalty programs, allowing merchants to offer their customers more flexibility and convenience when shopping online. Lastly, the Aura system uses advanced security measures to help protect merchants' and customers' information from fraud and identity theft.
What makes Aura an important payment method for online purchases in Brazil?
Aura is an important payment method for online purchases in Brazil because it offers a fast, secure and straightforward way to pay. It can be used with any major bank card, making it an ideal choice when shopping online. Additionally, Aura allows users to make real-time payments, ensuring that the transaction is completed quickly and safely.
Does Aura provide an API?
Yes, Aura provides an API that allows merchants to integrate the payment service into their websites or applications. The API enables merchants to customize the payment process according to their business needs and specifications. With this technology, they can offer their customers a seamless and safe shopping experience.