Everything you need to know about AXIS Bank
What is AXIS Bank, how does it work, and how can merchants integrate this payment method into their e-commerce store?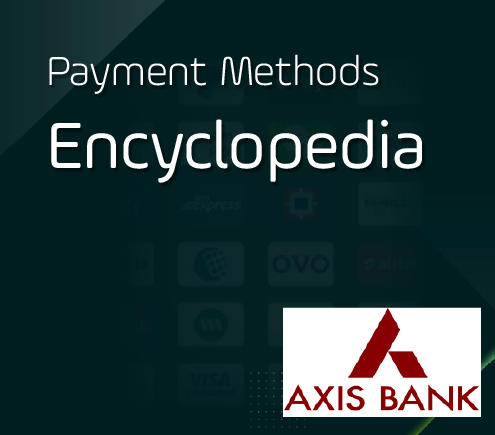 AXIS Bank: A convenient net banking solution for shoppers in India
The Indian e-commerce industry has significantly expanded in recent years. Today, the market generates $55 billion in annual Gross Merchandise Value and is expected to reach $350 billion by 2030!
Several factors contribute to this trend: young demography, increasing internet, and smartphone penetration, and relatively good economic performance. More than 348 million users carry out online transactions in India, and almost 140 million of them shop online. This positions India as the second largest e-commerce market worldwide.
Local customers embrace modern payment methods – for example, digital wallets are the leading payment method for e-commerce transactions, with a share of over 45%. To attract customers in India, merchants need to provide them with a smooth checkout experience – including all the payment methods they trust and prefer to use.
One of them is AXIS Bank, an online banking system that lets customers quickly transfer funds to pay for online purchases.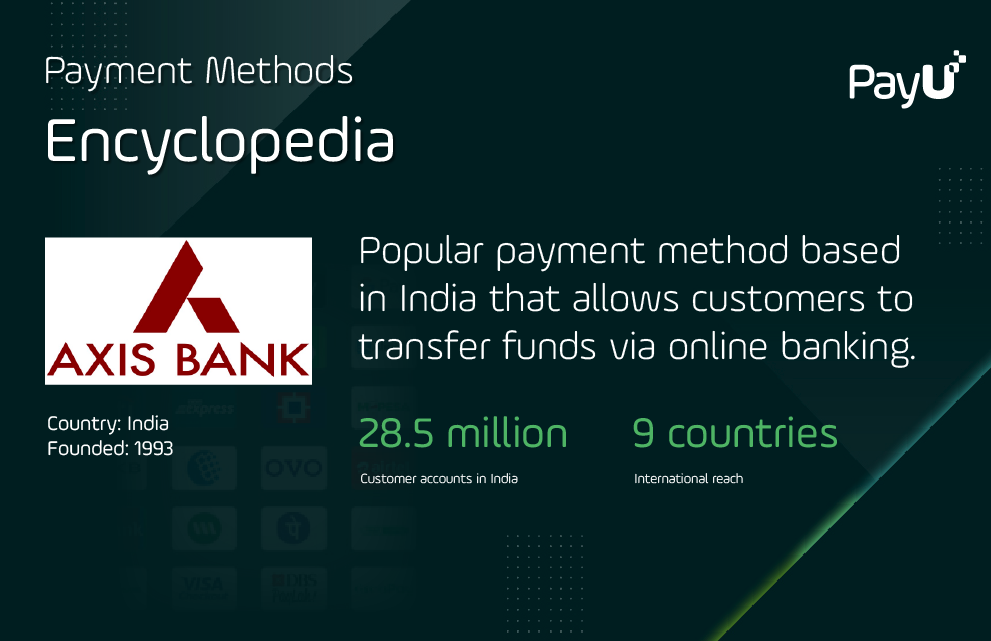 What is AXIS Bank?
AXIS Bank is an online banking system that allows customers to transfer funds using the bank's secure website. Customers can quickly authorize transfers and accelerate order processing and shipment, enabling merchants to serve their customers better.
This interface payment method allows users to pay for goods and services directly from their bank accounts in real time, without using a credit card. Customers review the pre-populated payment details, authorize payment, and then simply wait for the purchase to arrive or for their account to be credited in the case of a service.
How does AXIS Bank work?
Customers can pay with an AXIS Bank account when they make an online purchase. After choosing this payment solution in the checkout, they are redirected to the bank's website, where they can enter their credentials and log into the banking platform. Once this step is complete, customers can quickly confirm the payment for their purchase. Merchants receive the funds immediately and can start processing the order for faster shipment.
Why do merchants and consumers use AXIS Bank?
The growth of its online shopping sector in India has been triggered by an increase in internet and smartphone penetration during the past few years. As the digital infrastructure and its security improve, consumers in India are increasingly turning to new payment methods, such as online banking and subscriptions. AXIS Bank offers customers many benefits, such as convenience, ease of use, and security. Using this payment method, customers can shop online quickly and easily, as there's no need to remember details or populate fields with data to make a transfer. Also, customers are eligible for cashback by paying through net banking. 
Merchants should consider implementing local payment methods to expand their business to India, one of the largest e-commerce markets in the world. AXIS Bank's fast, efficient net banking payment solution helps businesses attract customers who are accustomed to using it in their daily lives and trust it. Merchants benefit from net banking primarily due to its speed. Slow-moving payments tie up valuable capital and make it difficult to get an accurate view of a company's finances. 
How can I start accepting AXIS Bank?
Merchants can use AXIS Bank's net banking service by implementing a payment gateway that includes this. By partnering with a payment service provider that has global coverage, you can start accepting customer payments efficiently and quickly improve the customer experience for a higher conversion rate.
AXIS Bank FAQs (5)
In which countries is AXIS Bank used?
AXIS Bank is used in India, one of the largest e-commerce markets on a global scale.
What makes AXIS Bank an important payment method for online purchases in India?
AXIS Bank is a popular payment method in India due to its convenience, ease of use, and security. Customers also benefit from cashback offers available when they pay through net banking. Merchants can process orders quickly and generate more revenue with this trusted online banking service.
What are the payment gateway features of AXIS Bank?
AXIS Bank's payment gateway features include secure transactions, real-time processing and settlement, easy integration with existing systems, and reliable customer service. It also provides merchants detailed transaction reports to help them follow up on payments. These features make AXIS Bank a popular payment method in India. Merchants can use it as a reliable and secure solution for accepting customer payments.
What are the extra value-added services AXIS Bank provides?
AXIS Bank provides several value-added services for merchants, such as processing refunds and managing payments in foreign currencies. Additionally, customers can benefit from automated payment reminders sent to their registered email or mobile phone number when they miss a payment. This helps customers keep up with their payments and reduces the risk of unpaid bills. Finally, AXIS Bank's payment gateway provides detailed analytics, allowing merchants to track customer behavior in real-time and optimize their sales strategies. All these services make it easier for merchants to process payments and improve the customer experience.
Does AXIS Bank provide an API?
Yes, AXIS Bank provides an API that merchants can use to integrate the payment gateway into their existing systems easily. This API allows merchants to offer customers an efficient and secure checkout experience without manually entering data for each transaction.