Everything you need to know about Cencosud
What is Cencosud, how does it work, and how can merchants integrate this payment method into their e-commerce store?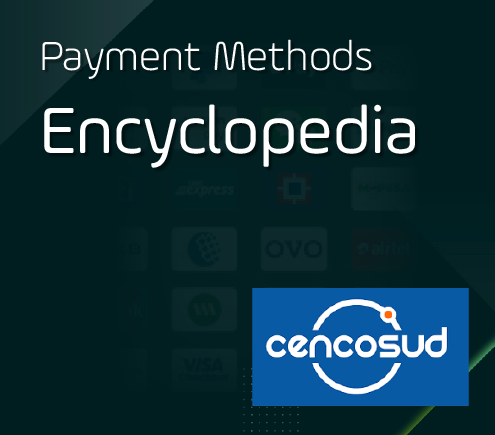 Cencosud: A top card service across South America
E-commerce in South America is on the rise. Due to high internet and mobile penetration rates and despite some macroeconomic challenges, the region continues to be attractive to online merchants across nearly every retail sector.
However, to drive conversions and online revenue, e-commerce businesses need to offer local customers the local payment method options that customers trust and prefer to use.
One of the most popular payment methods in the region is the Cencosud card. Keep reading to learn why Cencosud is essential for every e-commerce store.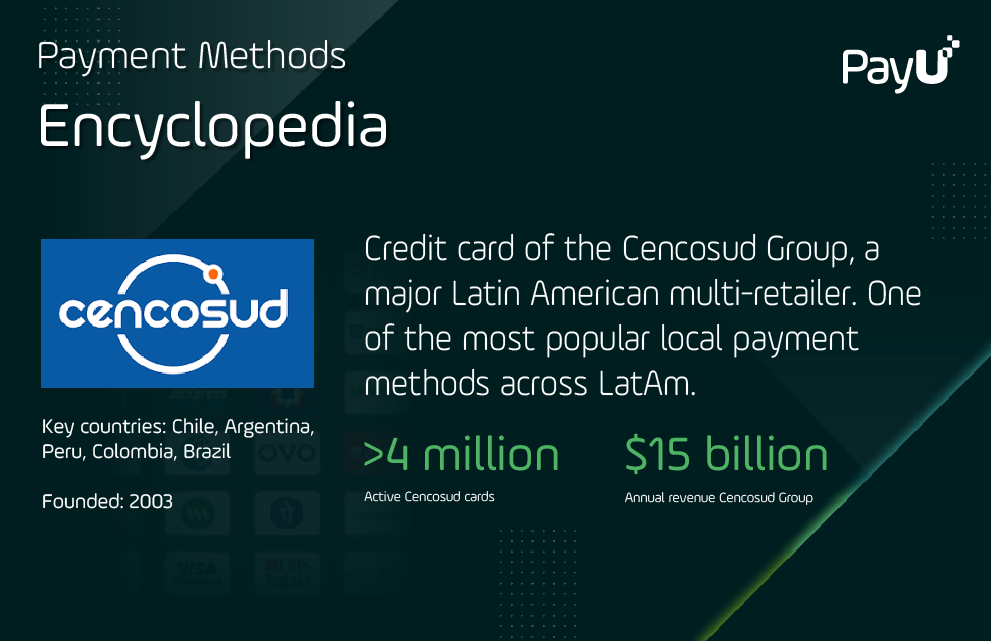 What is Cencosud?
Cencosud Card is the credit card of the Cencosud group, offering customers exclusive benefits at various stores and a wide range of affiliated businesses. Customers can pay off their balance automatically via direct debit from a bank account or online banking or in person at participating stores. 
Cencosud established its financial services division in 2003 when it launched the Jumbo Más credit card to facilitate in-store purchases. The VISA franchise backs the Cencosud card, so customers can make purchases nationally and internationally in any store.
How does Cencosud work?
To make a purchase using the Cencosud card, customers first select a credit card as the payment method during checkout. Next, customers write their card number and enter the expiration date as well as the cardholder's name and security number as part of the standard card payment procedure. 
Why do merchants and consumers use Cencosud?
Cencosud offers many benefits for its customers, from the ease of use and convenience to security and reward programs. Using a Cencosud card, customers can defer national purchases up to 36 months – the same happens automatically to international purchases. They also get access to exclusive promotions with allied companies, accumulate points for purchases, and redeem them in various stores. 
The card also allows purchasing insurance to receive assistance in case of accidents or illness on trips, medical transfers and lodging, home emergency services, and vehicle emergency services.
Why is Cencosud an attractive payment method for e-commerce businesses looking to expand their operations to Central and South America? Combined, the countries covered by Cencosud represent an impressive population of approximately 350 million. Countries such as Brazil, Argentina, and Colombia are characterized by high internet penetration and growing e-commerce.  
How can merchants start accepting Cencosud?
Cencosud is a fast, convenient, and secure payment solution. Any e-commerce merchant looking to streamline the checkout experience for customers in this region should consider adding a Cencosud card, one of the most popular local payment methods in Latin America and one that customers know and trust. The best way to do so is through an international payment gateway that includes Cencosud and other key local payment methods which merchants can leverage to win customers in new markets. 
Cencosud FAQs (2)
In which countries is Cencosud used?
Cencosud is used across a number of countries in South America, including Argentina, Brazil, Chile, Colombia, and Peru.
What are Cencosud's specialties?
In additon to providing financial services through the Cencosud Card, Cencosud operates supermarkets, hypermarkets, home centers, and department stores. The company's product portfolio includes food and non-food items such as bakery products, dairy, deli items, frozen foods, general grocery items, produce items, seafood items, snacks, liquor products, pre-packaged meats (such as steaks), yard and garden supplies such as plants, fresh-cut flowers, gift items such as cookies and candy bars, sweets such as chocolates or gums, and more.