Everything you need to know about Citibank
What is Citibank, how does it work, and how can merchants integrate this payment method into their e-commerce store?
Citibank: An online banking solution for customers in India
The popularity of e-commerce and digital payment methods has grown significantly in India's past decade. Consumers increasingly turn to credit cards, online transfers from local banks, and low-cost internet access for hassle-free electronic payments. The proliferation of mobile commerce and improved security infrastructure drive a shift from traditional methods to new options like online banking. If you want to expand your business operations to India, it's worth getting familiar with local payment methods. One service that may be worth considering is Citibank's online transfer service.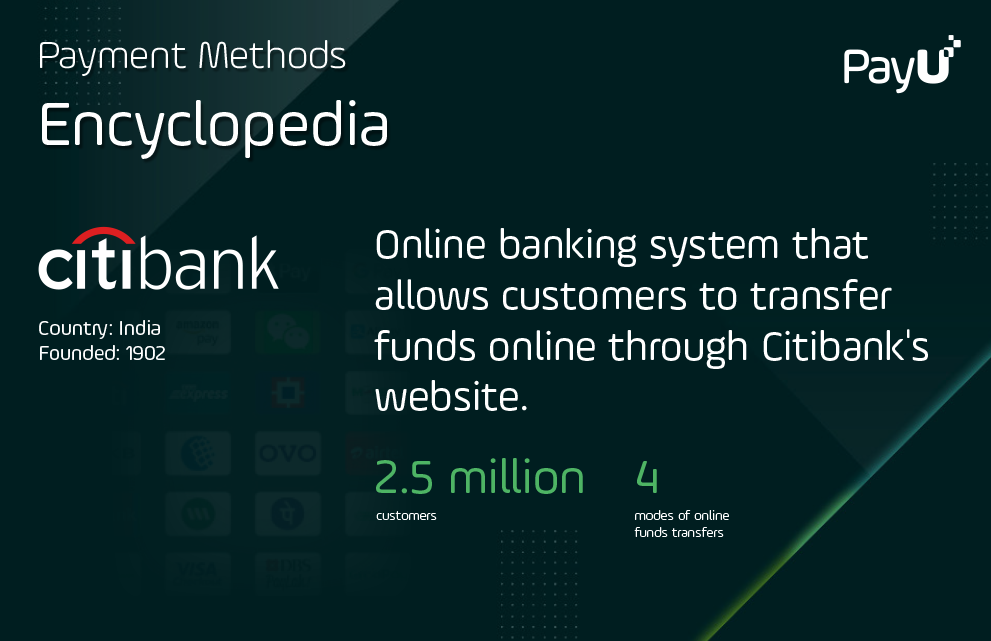 What is Citibank?
Citibank is an online banking payment solution that allows customers to transfer funds online through Citibank's website. Customers can access their bank accounts 24/7 from anywhere in the world. Users can view their account balance, find out the status of their fixed deposit, manage multiple accounts, and transfer funds virtually. Naturally, they can also use the bank transfer feature to pay for online purchases quickly.
How does Citibank work?
When moving along the checkout, a customer can choose their preferred payment method. If they pick Citibank, they will be redirected to a special page where they can now log into net banking using their credentials. All that's left is to confirm the transfer, and the fund will immediately reach the merchant's account. The payment method is secure and streamlined to seamlessly match the needs of customers looking to complete online purchases.
Why do merchants and consumers use Citibank?
Citibank's transfer payment method is both convenient and secure. The bank allows customers to shop online quickly and easily, without needing to remember details or populate fields with data during the checkout process. 
Merchants also benefit from Citibank's fast and efficient net banking payment solution. Expanding to India is a great idea for e-commerce businesses as the country boasts one of the largest e-commerce markets in the world. E-commerce stores that offer Citibank's fast and efficient net banking payment method in their checkout will attract customers who are accustomed to using this solution.
How can I start accepting Citibank?
Merchants can accept online transfers from Citibank by partnering with a payment service provider that offers a payment gateway with global coverage. By doing so, you can start accepting such payments efficiently and instantly improve customer experience.
Citibank FAQs (5)
In which countries is Citibank used?
Citibank is used in India, one of the largest and most rapidly growing e-commerce markets globally.
What are the key benefits of Citibank for business?
Citibank offers merchants a secure, fast, and efficient payment solution that allows customers to pay for online purchases easily.
Can I accept Citibank payments on my website?
Yes, you can accept Citibank payments on your website by partnering with a payment service provider that offers an integrated payment gateway. By doing so, you can quickly and seamlessly start accepting such payments.
What makes Citibank an important payment method for online purchases in India?
Citibank's fast and secure payment solution has become a key part of the local payment landscape in India. By offering this payment method at checkout, merchants can attract customers who prefer using Citibank for their online purchases. Additionally, offering a variety of payment methods increases customer satisfaction and encourages more people to complete their transactions.
Does Citibank provide an API?
Yes, Citibank offers an API that can be integrated into your merchant's website or app. This allows merchants to accept customer payments through the bank's services securely. You can learn more about it by visiting the official Citibank website.